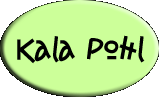 Kala Pohl's love for art began during her childhood in Malaysia. She experimented with watercolor, pastels and pencil sketches and went on to study batik design. In the 80's Kala moved to the San Francisco Bay Area and began a career in technology which lasted 18 years but she never lost her enthusiasm for art. She began a full-time art career while living in Kona, Hawaii. She gained popularity quickly as a Contemporary Landscape Artist. She is appreciated for her contemporary and fun style - a unique style that sometimes embraces the charm and innocence of folk art. She paints in acrylics, pastels and digitally.
Kala, who is of Asian Indian heritage and whose name "Kala" means "Art" in several Indian dialects, says it is an amazing coincidence that her name reflects her passion in life. Kala's art is in private collections throughout the United States, Southeast Asia, Australia and Europe.
She has had the opportunity to combine her creativity with her belief that art is an integral component to healing in her work as a volunteer Expressive Arts Facilitator with the Arts in Medicine Program at a Cancer Center.
​
Artist Statement
​
I am a great fan of the old Masters and Impressionists and even though I like to paint fantasy places, I still like to keep my art rooted in reality. When I paint, it is never about painting an actual place, but rather about evoking a feeling. When people look at my art, I want them to feel happiness, hope, peace, joy or humor. I am also drawn to Folk Art and my art incorporates the charm and story-telling aspect of folk art. As a colorist, I work on ensuring that the intense colors create a final outcome that is both soothing and pleasing to the viewer. Many artists have influenced me – Kirchner, Rousseau, Matisse, Van Gogh, Gauguin, Dali and many of the Caribbean artists. However, I have created a style that is unique and my own in the Contemporary Landscape Art world.
​
I am glad to have achieved my goal of creating art that is original, infused with my own upbeat, positive personality and filled with stories that make people smile. As I tell my customers, "I am very serious about my art, but my art is sometimes not so serious!"