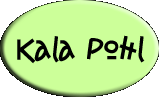 The Secret Rendezvous
30x30 inches Acrylic on Canvas (Framed) $1,250.00
Incoming
30 x 30 inches Acrylic on Canvas (Framed) $1,250.00
The Secret Rendezvous
30x30 inches Acrylic on Canvas (Framed) $1,250.00
Welcome to the Kala Pohl Studio - where whimsy meets reality!
​​​
Contemporary Landscape Artist Kala Pohl's love for nature and the beauty that surrounds us is evident in her vibrant contemporary paintings. She loves to paint tropical scenes with lush vegetation, tranquil seascapes that appear to beckon you and old world European charm. Her work is characterized by imaginative compositions and strikingly effective use of colors. Kala feels that creation is a personal thing that we do for ourselves and if someone else loves it, it's a bonus.
​
NEW!! You can now buy Kala's art on many products at kalapohl.redbubble.com
​
Facebook: www.facebook.com/kalapohlstudio
Instagram: www.instagram.com/kalapohlstudio​
​
Licensing Partnership
​
Working in partnership with CheckAdvantage, Kala Pohl's art is available on checks, check book covers and address labels. Buy these fun, whimsical checks and see how even something as boring as "check writing" can bring a smile to your face.